Design Tips for Small Spaces from Kelly Wearstler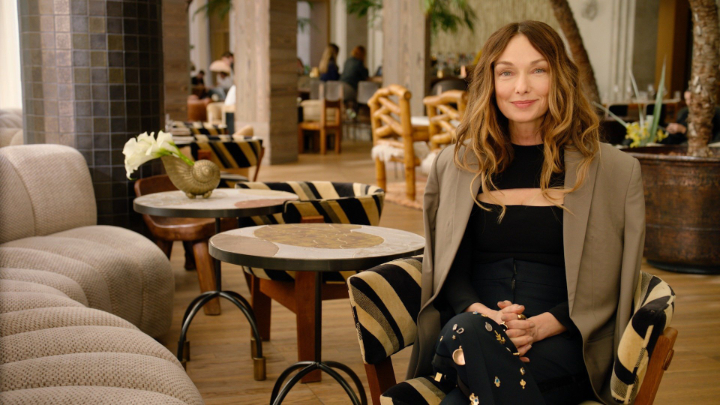 There are certain designers, and design styles that we at Sherry Black Designs are inspired by. Kelly Wearstler is one of those designers. Her design work has been featured in publications the world over. From Architectural Digest , Elle Decor to Vogue and The New Yorker. The following tips are from her Master Class by Kelly. Read more and discover 7 steps for designing small spaces. Enjoy!
Kelly Wearstler's 7 Tips for Designing Small Spaces
Add a mirror or two (or three). "Being a good designer is about visual trickery, and a mirror is the perfect medium to use," explains Kelly. Mirrors are a quick-and-easy DIY hack that visually enlarge spaces because they create depth and reflect back light to make a room feel more open. Kelly's recommendation if you want to make a room look bigger—whether it's a small kitchen or an entire tiny home—is to try at least one mirror: "You could either go floor to ceiling with a mirror, or you could get several mirrors. … If you want to enlarge your space in your small living room, buy three mirrors and put them on a wall—and it completely transforms the room." For a small bedroom, a mirror as a headboard is a great way to open things up.
Choose furniture with legs. "For making a small space feel larger," Kelly says, "consider legs on everything. Because if you have furniture that's rooted to the ground and you can't see under it, your eye's not going to travel beyond the lines of the front of the piece of furniture." Having pieces of furniture that are up on legs—couches, beds, bookshelves, dining tables, chairs—will help extend your floor space and create more visual surface area. "You could easily have a marble coffee table that's on delicate bronze legs," says Kelly. "That would absolutely do the trick."
Create mixed-use rooms. "In a lot of our residential projects we have what I call mixed-use rooms," Kelly explains. For instance, one of Kelly's clients needed her small bedroom to have space for work and guests, so Kelly designed a multipurpose daybed (a long couch that can serve as a bed), which the client could use as a bed, as a couch to work, or as a guest bed. She then included a small side table next to the daybed, which served "as a drink table if the client is sitting there working" or as a bedside table. When designing a smaller space, keep in mind the functionality of each individual item and include as many things as possible that can perform double-duty.
Make use of hidden storage. If your storage spaces are all out in the open, your small space will start to look cluttered and uninviting. Look for ways to hide your extra storage spots, whether it's enclosed shelving, kitchen cabinets, sliding doors, or attractive bookcases. Try to expand your storage ideas into places you wouldn't normally think of—for instance, installing shelving under your bed. Kelly designed a built-in, clever storage solution for one client: "We designed a cabinet that could store all of the printer and paper and everything that she needed to be a functional office."
Don't shy away from small focal points. "A focal point in a room is something where your eye immediately goes to," Kelly explains. "It's the thing that your eye goes to that immediately tells the story." Many beginning designers think that focal points have to be large pieces, but that's not the case. Large pieces have a lot of visual weight, and in a small room that can quickly become overpowering. Instead, consider a small focal point. "Small pieces can be just as powerful as large pieces," Kelly says.
Work within a color palette. Kelly describes her experience of painting her first apartment: "I moved to LA, and it was an historic building. … At the top of my windows was a stained glass window, and there was this citron color. I loved it. I went and got about 20 quarts of yellow … and I painted the entire living room, and then I went and experimented in the adjacent room." When she was done, she discovered that the cohesive color actually made the space look larger. "Color unifies a space, it truly does," Kelly says. Working within a simple paint color palette will help bring all of your rooms together into one larger whole.
Take advantage of every inch. Kelly describes the good use of space as "designing a boat"—you have to consider every square inch and make use of it, which is especially important in small space design. She designed a townhome where the clients wanted a bar somewhere in the space: "We were looking at the architecture and considering where we would put a bar. And then it occurred to us that there's a cavity in the staircase below the railings. … And so we put in a secret bar in the place." Kelly took advantage of a nook that the clients didn't realize they had and transformed it into a little room—making the townhome feel larger. You could do this in your own house design for a few more square feet or new storage areas.